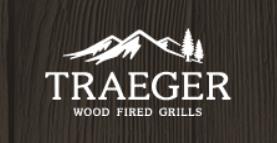 GRILL, SMOKE, BAKE, ROAST, BRAISE & BBQ.
Traeger 6-in-1 versatility allows you to cook hot and fast or low and slow. When you fire up your Traeger, you ignite the power to grill, smoke, bake, roast, braise, and BBQ – you're the master of all trades. From baby back ribs to wood-fired pizza, smoky mac & cheese and even homemade apple pie, anything you can cook up in your head, you can cook up on your Traeger.
With Traeger Grills it is as simple as turning the knob. Traeger grills are fueled by food-grade hardwood pellets. This is the source of the fuel and the flavor. The pellets are made from 100% pure wood sawdust and have a 99% burn rate.You can select the desired cooking temperature, place your food on the grill and then walk away while the Traeger does the work. The auger precisely controls the dispense rate for the pellets, keeping the temperature just right. The fan evenly distributes the heat and the smoke, so you will have consistent results every time. You can taste the difference! Click here for more information.
We also carry rubs, spices, accessories and more. We are a dealer for Traeger, and we offer set up services for a minimal fee. And don't forget, our prices are the best! We are never knowingly undersold!