Like you, we work all day, and when we get home, there's not a lot of energy or time left for dinner. Cooking on the grill or fire pit is something we do most nights because it's simple, healthy and requires minimal clean up...but most of all, it just tastes great.
We'll try and remember to take photos of our favorite meals to share them with you. You'll notice some of the measurements are not exact, but that's where you can customize it to your own taste.  If you have a recipe for cooking over a grill or fire pit that you would like to share, we'd love to hear about it. Just click here to email us the ingredients, directions and some good photos. Of course we are happy to give you credit!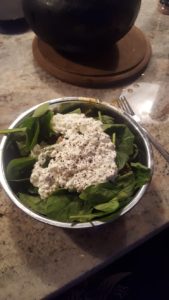 Cooked pinto beans with juicechopped green onionssliced mushroomssliced carrotssliced zucchini chopped broccoliThrow it all into a pot (we use a clay pot) Top with fresh or frozen tilapia. Season with salt and pepper add any extra seasonings of your choice; we added blackened seafood seasoning on top of tilapia. Foil pot, put pot lid on…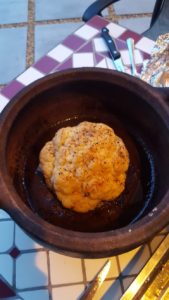 One whole cauliflower leaves removed and stork cut off. 1/4 cup olive oil, salt, and pepper to taste, 1/4 cup parmesan cheese. 4tbsp water. Place cauliflower in clay pot pour oil over the cauliflower, salt, and pepper to taste;sprinkle Parmesan cheese on top, add water to the pot. Cover with foil and clay pot lid…
Baguette sliced, a drizzle of olive oil then top with homemade pizza sauce from Across the Pond, mozzarella cheese topped with fresh basil. Grill for 20 minutes or until cheese is melted and bread is crisp.